[M78]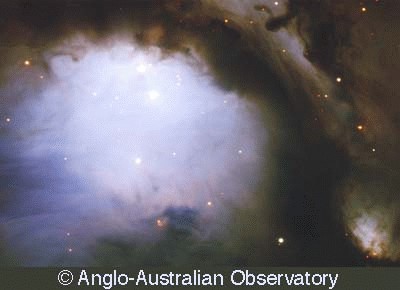 CCD image of the bright diffuse reflection nebula M78, taken with the MIT/Lincoln Labs CCD camera on the 3.9-meter Anglo-Australian Telescope.
The two brightest illuminating stars are well visible within the blueish reflection nebula, as are NGC 2064 to the WSW (lower right) and faint but larger NGC 2067 to the North-West (upper right), separated from M78 by a dark band. Note the fine detail within the nebula and particularly on its edges, especially to the North and south.
This image was created by David Malin. It is copyrighted and may be used for private purpose only. For any other kind of use, including internet mirroring and storing on CD-ROM, please contact the Photo Permissions Department (photo at aaoepp.aao.gov.au) of the Anglo Australian Observatory.