NGC 6124
Open Cluster NGC 6124 (= Lacaille I.8 = Dunlop 514 = Melotte 145 = Collinder 301), type 'e', in Scorpius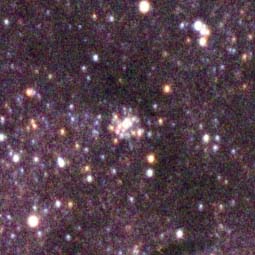 | | |
| --- | --- |
| Right Ascension | 16 : 25.6 (h:m) |
| Declination | -40 : 40 (deg:m) |
| Distance | 18.6 (kly) |
| Visual Brightness | 5.8: (mag) |
| Apparent Dimension | 29 (arc min) |
Discovered by Nicholas Louis de Lacaille in 1751-52.
The southern open cluster NGC 6124 was discovered by Nicholas Louis de Lacaille during his 1751-1752 journey to South Africa.
The image in this page was obtained by Till Credner and Sven Kohle. It was cropped from a larger image, which they had obtained within their Constellations Triangulum Australe, Norma, Ara photography, which also covers parts of Scorpius. The image shown here is a magnification showing the region around open cluster NGC 6124. The original image, covering a celestial area of 27x39 deg in size, was obtained by Sven Kohle on June 11, 1994, 2:23 LT, from Cerro Tololo, Chile, using a 50mm f/2.8 photo lens. It is a 30 min exposure on Scotchchrome 400 film.