NGC 3532
Open Cluster NGC 3532 (= Lacaille II.7 = Dunlop 323 = Melotte 103 = Collinder 238), type 'f', in Carina

The Wishing Well Cluster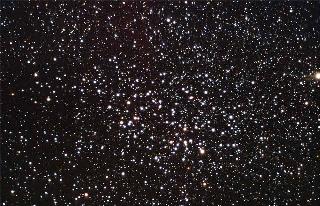 | | |
| --- | --- |
| Right Ascension | 11 : 06.4 (h:m) |
| Declination | -58 : 40 (deg:m) |
| Distance | 1.3 (kly) |
| Visual Brightness | 3.0 (mag) |
| Apparent Dimension | 55 (arc min) |
Discovered by Nicholas Louis de Lacaille 1752.
The considerable southern open cluster NGC 3532 is one of the Southern Sky's finest Jewels.
NGC 3532 was discovered by Nicholas Louis de Lacaille on January 25, 1752 from South Africa, and cataloged as Lacaille II.7.
NGC 3532 got it's nickname "The Wishing Well Cluster" because the twinkling stars in this Open Cluster resemble silver coins shimmering at the bottom of a Wishing Well.
Above image was obtained by Mischa Schirmer. It was taken on July 1, 2000 from Hakos Farm, Namibia (at 1820m above sea level), with a CG11 at f/6.5, exposed 50 min on Kodak EliteChrome 200 unhypered.