NGC 3372
Starforming Nebula NGC 3372 (= Lacaille III.6 = Dunlop 309), an emission nebula, in Carina

The Eta Carinae Nebula, Carina Nebula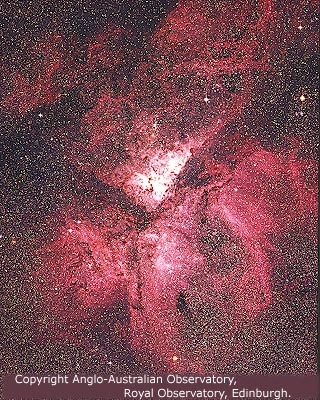 | | |
| --- | --- |
| Right Ascension | 10 : 43.8 (h:m) |
| Declination | -59 : 52 (deg:m) |
| Distance | 10.0 (kly) |
| Visual Brightness | 1.0 (mag) |
| Apparent Dimension | 120x120 (arc min) |
Discovered by Nicholas Louis de Lacaille on January 25, 1752.
This giant diffuse nebula is one of the largest H II regions (composed of ionized hydrogen gas) in our Milky Way galaxy.
The star forming nebula NGC 3372 has produced the very conspicuous peculiar star Eta Carinae, which is among the most massive and luminous stars in our Milky Way, and perhaps in the universe.
Our image was obtained by David Malin with the 1.2-meter UK Schmidt Telescope. It is copyrighted and may be used for private purpose only. For any other kind of use, including internet mirroring and storing on CD-ROM, please contact the Photo Permissions Department (photo at aaoepp.aao.gov.au) of the Australian Astronomical Observatory.