NGC 3115
Lenticular (S0) Galaxy NGC 3115 (= H I.163 = Bennett 42), type S0_1, in Sextans

Spindle Galaxy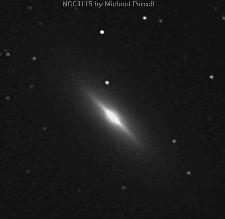 | | |
| --- | --- |
| Right Ascension | 10 : 05.2 (h:m) |
| Declination | -07 : 43 (deg:m) |
| Distance | 30000.0 (kly) |
| Visual Brightness | 9.2 (mag) |
| Apparent Dimension | 8.3 x 3.2 (arc min) |
Discovered by William Herschel on February 22, 1787.
This is a bright lenticular galaxy, i.e. a disk galaxy without significant spiral structure. NGC 3115 is seen almost exactly edge-on. As may be guessed from its appearance, it was occasionally mis-classified as elliptical. It was discovered by William Herschel in the 1780s.
Our image was obtained by Michael Purcell on April 14, 1996 from central New Mexico with ST-7 CCD camera.