NGC 891
Spiral Galaxy NGC 891 (= H V.19), type Sb, in Andromeda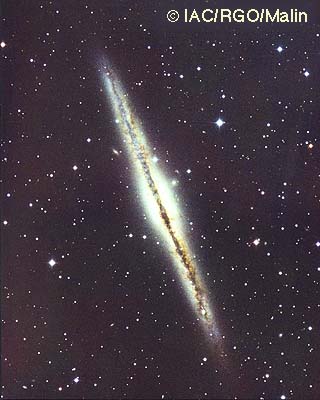 | | |
| --- | --- |
| Right Ascension | 02 : 22.6 (h:m) |
| Declination | +42 : 21 (deg:m) |
| Distance | 10000.0 (kly) |
| Visual Brightness | 10 (mag) |
| Apparent Dimension | 13.5 x 2.8 (arc min) |
Discovered by William Herschel in 1784.
NGC 891 is a fine edge-on spiral with a faint dust lane along its equator. It was discovered by William Herschel on October 6, 1784, and cataloged as H V.19. However, in the appendix to his first catalog, he confused it with his H V.18 (M110, NGC 205) when discussing the discoveries of his sister Caroline Herschel, in this case her entry No. 9; this remark was picked up by Admiral Smyth and later authors so that it was wrongly attributed to Caroline for a long time.
Our image was obtained with the Isaac Newton Telescope under cooperation with David Malin. This image is copyrighted and may be used for private purpose only. For any other kind of use, including internet mirroring and storing on CD-ROM, please contact the Photo Permissions Department (photo at aaoepp.aao.gov.au) of the Australian Astronomical Observatory.