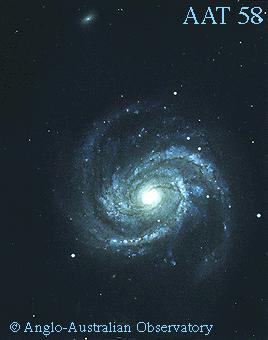 Image of M100, taken by David Malin with the Anglo-Australian Telescope.
This image shows a portion of the Virgo cluster of galaxies which is dominated by the majestic spiral M100, one of the most beautiful spirals in this cluster. This part of the photograph can be studied in an enhanced magnificient image.
A small companion, NGC 4322, is shown in the upper part of the image. This small galaxy is a representative of a much less spectacular kind of galaxies, a so-called nucleated dwarf ellipcital, and our image is the first color picture of a dwarf galaxy of this type. From this image, we can conclude that although this galaxy is almost certainly in the same cluster as M100, it must not necessarily be close to it. Dwarf galaxies are by far the most common kind in rich clusters such as this, but nucleated examples are unusual, and this is the first color picture to show one.