[M81]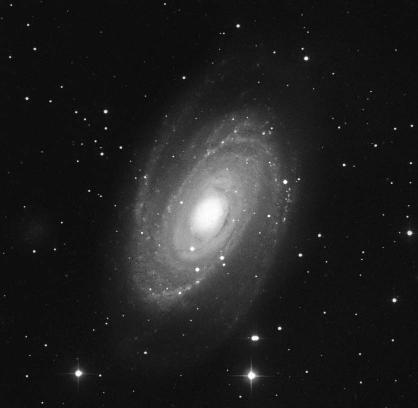 Martin Germano's beautiful b/w film image of M81 was obtained with his self-made 14.5" f/5 Newtonian, exposed 90 minutes on hypered Kodak Tech Pan 2415 film.
On a deep magnification from this image, M81's faint companion Holmberg IX (UGC 5336) can be glimpsed.
More images from Martin Germano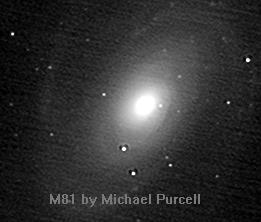 Michael Purcell's image of M81, taken on December 12, 1993 at 01:55:35 with his Meade 10-inch f/6.3 SC Telescope and a ST6 CCD camera, exposed 15 minutes.
More information on this image by Michael Purcell
More images from Michael Purcell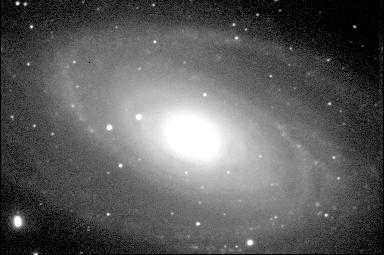 Taken by amateurs of the Sternfreunde Breisgau e.V. at the Schauinslandsternwarte with their ST7 CCD camera on a Celestron 11. Contributed by Peter Suetterlin from the CCD image collection of the Sternfreunde Breisgau e.V.
More images from Peter Suetterlin and the Sternfreunde Breisgau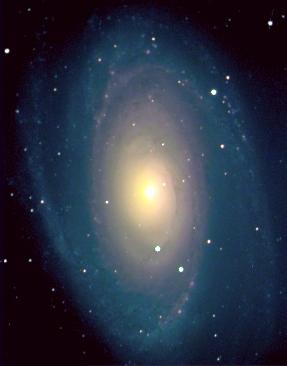 This fine color image of spiral galaxy M81 was taken by Alan Chen on March 14, 2002 at the CFAS Star Party. The hardware consisted of the MX7C with the 12"LX200 SCT operating at f/4. It is a composite of 12x5 minutes exposures. The setup was guided by an 80mm refractor using a low lux video camera.
Image series in different parts of the spectrum
---
Hartmut Frommert
Christine Kronberg
[contact]




Last Modification: January 18, 2003