[M27]
Click on images to see larger versions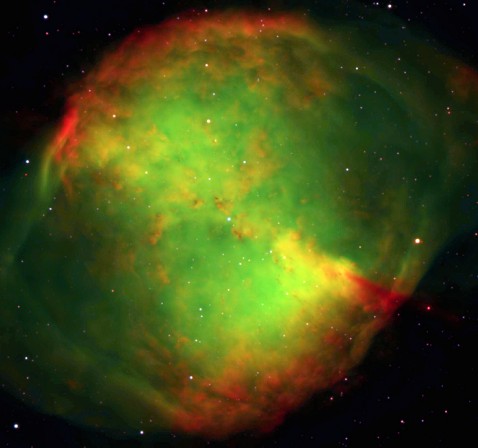 Hi-res version of this image
The Dumbbell Nebula, Messier 27, as photographed within the FORS Science Verification program with the FORS spectrograph on the ESO 8.2-meter VLT Unit Telescope (UT) 1. This image was obtained on September 28, 1998.
ESO offers the M27 VLT slide in their ESO slide set 3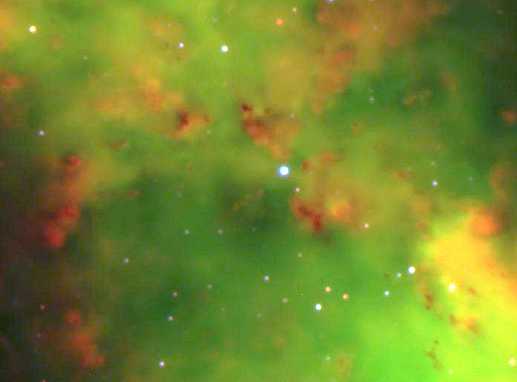 Hi-res version of this image
Central part of the Dumbbell Nebula, enlarged from the previous image.
This image was featured as Astronomical Picture of the Day for October 13, 1998
Some technical information: Above photographs are reproduced from a three-colour composite based on two interference ([OIII] at 501 nm and 6 nm FWHM - 5 min exposure time; H-alpha at 656 nm and 6 nm FWHM - 5 min) and one broadband (Bessell B at 429 nm and 88 nm FWHM; 30 sec) filtre images, obtained during mediocre seeing conditions (0.8 arcsec). The CCD camera has 2048 x 2048 pix, each covering 24 x 24 micrometers and the sky fields shown measure 6.8 x 6.8 arcmin and 3.5 x 3.9 arcmin, respectively. North is up; East is left.
<!a href="http://www.eso.org/outreach/press-rel/pr-1998/phot-38-98.html#phot-37a"> ESO Press Release 38/98, photos 38a/98 and 38b/98<!/a>
Amateur images of M27; more amateur images
---
Hartmut Frommert
Christine Kronberg
[contact]




Last Modification: July 29, 1999