[M24]
NGC 6603 in M24
Open Cluster NGC 6603 in star cloud M24 in Sagittarius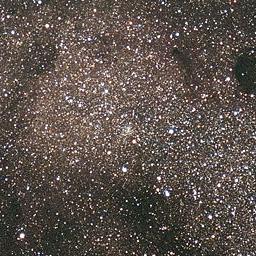 | | |
| --- | --- |
| Right Ascension | 18 : 18.4 (h:m) |
| Declination | -18 : 25 (deg:m) |
| Distance | 10 (kly) |
| Visual Brightness | 11.4 (mag) |
| Apparent Dimension | 5 (arc min) |
Discovered by John Herschel 1825-33 (sweep 270).
Open star cluster NGC 6603, situated within the brightest part of star cloud M24, is classified by Shapley as type "g" and is of Trumpler class I,2,r (Trumpler and Götz) or I,2,r,n (Sky Catalog 2000). This 11.4 mag cluster consists of about 30 stars in a field of about 5 arc minutes in diameter, and is about 9400 light years remote (Kenneth Glyn Jones gives even 16,000 light years). Thus its linear diameter should be about 14 light years. The hottest stars are about B9 (pointing to an intermediate age of several 100 million years, an estimate of which is not known to the present author), and the brightest of photographic mag 14.
For observing NGC 6603, a medium-sized amateur scope (starting perhaps at 4-inch refractors or equivalent) with medium to high magnification is required. This cluster is difficult to distinguish from the Milky Way background.
In our image, NGC 6603 is visible close to the center. In the upper right, dark nebulae Barnard 92 (comet-like, the left one) and Barnard 93 (on right image edge) are well visible. Just near the lower right edge of B92 is the little conspicuous cluster Collinder 469, all well within M24. The image was cropped from a larger image of M24 by Russ Dickman.